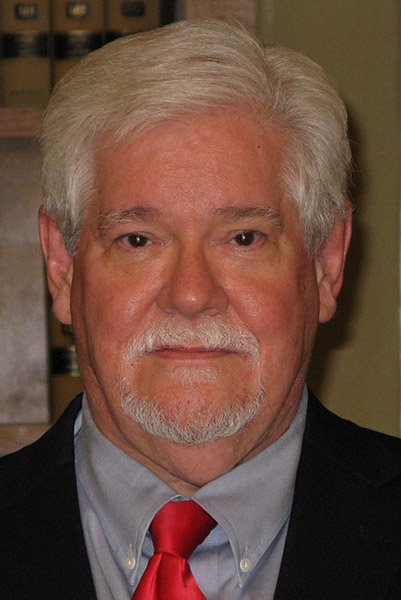 John T. Bird, native of Hays, Kansas, is Senior Partner in the law firm of Glassman Bird Powell, L.L.P.
John graduated from both Washburn University (1970) and Washburn University School of Law (1974) with honors. He returned to his hometown of Hays in 1974 to practice law with Robert F. Glassman. He is proud to have appeared in the courthouses of 97 of Kansas's 105 counties.
John's practice is focused on civil matters and family law cases involving complex issues and large marital estates. He has developed a particular expertise regarding natural resources, especially water, and has assisted Hays, Ellis County, and Northwest Kansas establish secure and plentiful municipal water supplies. He heads the legal team working with various State agencies in developing a water ranch purchased 25 years ago to provide the region with reliable potable water for the next 100 years.
He has served as the Assistant County Attorney for Ellis County in 1975, the Ellis City Attorney from 1975 to 1984, and the Hays City Attorney since 1987.
As a Member of the Kansas Supreme Court Child Support Guidelines Committee from 1983 to 2012, he helped develop the Kansas Child Support Guidelines, which have helped millions of children achieve regular and meaningful support.
Bird has served on numerous membership and leadership positions in public and private entities and charities, including Hays Arts Council, KOOD Public Television, Northwest Kansas Vocational College, Washburn University, Fort Hays State University, the Democratic Party, and numerous environmental conservation organizations. He is deeply involved in local, state, and national politics.
Bird is a member of the Bar Associations of Ellis County and of Kansas; the Trial Lawyers Associations of Kansas and the United States; and the Kansas Women Attorneys Association. He is admitted to practice law in the Courts of Kansas, the United States District Court and the Supreme Court of the United States. In 2017 he was recipient of the Kansas Bar Association's Outstanding Service Award, which recognizes service to the legal profession for especially meritorious deeds or service that significantly advance the administration of justice or the goals of the legal profession.
Bird regularly serves as a speaker and educator, having presented to Leadership Kansas, Fort Hays State University, Washburn University, and Professional Education Seminars on the topics of water law and family law and legal ethics.
John and his wife, Carolyn, who died in 2015, have four children, two foster children, four grandchildren, and seven foster grandchildren. He resides in a 111-year old restored Queen Anne Victorian home in what he affectionately refers to as Haysamerica.
Divorce
Personal Injury
Estate Planning
Municipal Law
Litigation
Probate
Oil & Gas
General Practice